Thirteen Things We Do When Mommy and Daddy Aren't Home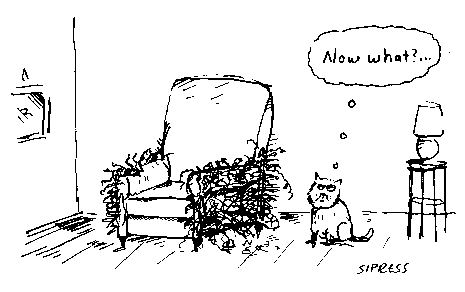 See above cartoon

Stare pathetically out of the windows so the neighbors think we're abandoned

Leave cryptic messages in the litter box crystals

Do the Hokey-Pokey on the dining room table - "put your left paw in..."

Strategic hairball placement contest

Gang up on the D.O.G. and make him give us pony-rides around the living room

Re-arrange the throw rugs in a more tasteful decor

Have a karaoke meow-ling contest ala' American Idol - "Start Spreading the News..."

Convince the D.O.G. that the folks are NEVER coming home again

Watch the D.O.G. have a nervous breakdown

Convince the D.O.G. that we're just kiddin'

Two words - indoor gardening, we love re-potting houseplants!

Leave groomed fur on counters, shelves and furniture - such a chic fashion statement!